I'm so glad you are here! Please, after our session at the UK ICF 2020 conference I am so looking forward to connecting with you.
On this page you'll find some overall thoughts on how improvised music can inspire us as coaches and leaders, more about my improvisational coaching model, sound snippets of me and my saxophone and various ways to get in touch with me as well!
One more thing: if you'd like to spread the improvisational attitude, you'll find out how you can help me with that on the bottom of the page. Enjoy!
Material from my talk at UK ICF 2020
I'm glad I had the opportunity to share my improvisational coaching model with you, thank you for participating in the session. Here you'll find the four perspectives again: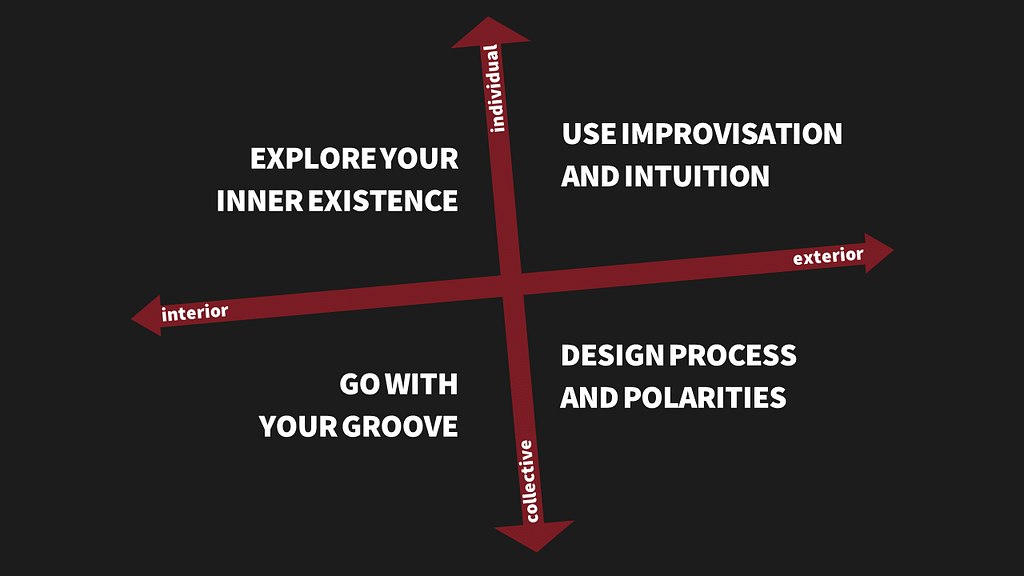 Please, don't hesitate to share any thoughts and any questions you might have with me. You easily can reach me via Mail@ChristinePaulus.de.
As a reminder here are four questions you can work with, to start exploring improvisation for you, your client or your employees:
Who am I when I coach?
What crazy things could I do?
What is my metaphor for the culture I experience?
Which polarities would I like to explore?
You can download the slides of my session as a PDF here:
TEDx Talk: Coaching and All That Jazz
In 2016 at a TEDx conference in Berlin, Germany, I presented my model for the very first time to a public audience. The title of my talk was Coaching and all That Jazz. You can watch it here:
How can improvised music inspire us coaches and leaders to enhance our impact?
Jazz. Music for warm summer nights, late evenings in the neighborhood pub or gigs in a classy establishment. Where jazz really shines is in the live jam session. It becomes a wellspring for new musical ideas that thrills and captivates the audience.
Jam sessions bring together a variety of musicians from all parts of the spectrum. They become a combo without a manuscript. Everyone jams, a great experience for both the musicians and the audience emerges by chance. But is it really by chance?
Improvising musicians create a special space that enables innovative, impactful, and deep personal expressions. Everyone on stage develops themselves and their musical ideas. Similarly, to create such a space for development is the common goal of all coaches when working with clients. It requires an equally appropriate setting as well: the coaching session.
Neither a good jam session, nor a good coaching session happens by chance.
I came to this realisation in dealing with both professions. Using observations originally rooted in the basic framework of the Integral Theory developed by Ken Wilber, I developed it further to my own integral improvisational coaching concept.
In our session we focused on four concrete observations. These can easily be transferred to other contexts where human development in the form of innovation, interaction, integrity and change is required:
1. Explore Your Inner Existence
2. Use Improvisation and Intuition
3. Go With Your Groove
4. Design Process and Polarities
Why is it required? Today's professional environment, and the society as a whole, is characterised by complex situations, with many unknowns and happening at rapid speeds. Playing by the notes does not cut it nowadays. People have to be flexible, dynamic and inclusive – all this is reflected in improvised music.
The journey of the Improvisational Coaching Model
The improvisational coaching model didn't come to me overnight. It took me years from having my first observations until now. And the journey continues.
If you'd like to get a glimpse of my early work, you can have a look at some of my earlier blog articles, podcast interview, and talk at the university.
Unfortunately, this part of the content is currently only available in German. I am working on translating my content into English – stay tuned for that!
Me and my saxophone
If you'd like to get some sound impressions from me and my saxophone, you are more than welcome to watch my vlog on my YouTube channel.
By the way, I plan to change the language on my channel to English. So, please subscribe if you want to see more of me and my coaching practice in the future! Here's my channel ChristinePaulus.de on YouTube.
Let's connect
As you know, improvising is all about connection and communication. I'd love to hear your thoughts on my improvisational approach in coaching.
Feel free to share your experiences! Email me via Mail@ChristinePaulus.de.
Are you on Social Media? Just shoot me a message and let's connect over there:
There's more…
There is so much more to improvising and I'm currently evaluating options on how to share my thoughts.
If you have any ideas on how I could spread this message, and what channel you'd prefer – whether it is videos on YouTube, articles on LinkedIn or even more speeches in person and virtually – let me know! I'm very open to all great ideas.
One more thing: I haven't started a mailing list in English yet. It might be an idea to share my thoughts on improvisation and my coaching practice in general. Would you be on board? Please, let me know so that I understand if this is something I should follow up on!
Shoot me a message
What do you want to share with me?